Introducing our New & renewed Green Initiatives for 2023
Reducing plastic waste with Scottish Water
💧Remember to bring your refillable water bottle to the festival this year and stay hydrated thanks to Scottish Water's new tap on the Meadows. We're excited to partner with Scottish Water and reduce our plastic waste at the festival by offering free water refills at the tap for the first time!
Minimising Food waste with The Shrub Coop
🌭We're also excited to partner again with The Shrub Coop who are helping us minimise food waste by taking any leftover food from stall holders on Sunday evening. They'll be donating this to charities, hostels and volunteers.
Reducing carbon emissions
🚴‍♀️We can't wait to try out a new cargo bike that Cargo Bike Movement have kindly lent us. We'll be doing our deliveries to and from the Festival over the weekend, saving on carbon emission from vehicles.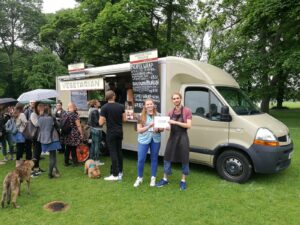 Celebrating the great work of our market traders' on sustainability
🛒And of course our Sustainable Stall Award is back again for it's 5th year! Who will be the winners….?! Find out on Sunday at midday 🥇